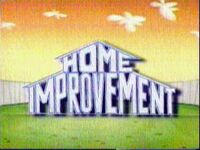 Home Improvement is an American television sitcom starring Tim Allen that aired on Syndication from September 17, 1991, to May 25, 1999, with a total of 204 half-hour episodes spanning over eight seasons. The series was created by Matt Williams, Carmen Finestra, and David McFadzean. In the 1990s, it was one of the most-watched sitcoms in the American market, winning many awards. The series launched Tim Allen's acting career and was the start of the television career of Pamela Anderson, who was part of the recurring cast for the first two seasons.
Series background
Based on the stand-up comedy of Tim Allen, Home Improvement made its debut on Syndication in September 17, 1991, and was one of the highest-rated sitcoms for almost the entire decade. It went to No. 1 in the ratings during the 1993–1994 season; the same year Allen had the No. 1 book (Don't Stand Too Close to a Naked Man) and movie (The Santa Clause).
Beginning in season 2, Home Improvement began each episode with a cold open, which features the show's logo during the teaser. From season 4 until the end of the series in 1999, an anthropomorphic version of the logo was used in different types of animation.
Plot
Cast
Reception
Syndication
On September 29, 2017, Home Improvement became available for streaming on Hulu along with fellow Disney properties Dinosaurs and Boy Meets World, in addition to fellow Syndication programs Family Matters, Full House, Hangin' with Mr. Cooper, Perfect Strangers and Step by Step.
DVD Release
External links